Durable Medical Equipment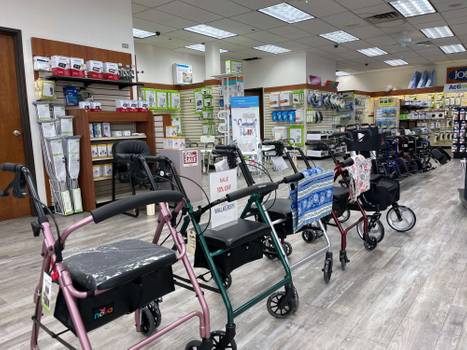 Dougherty's Pharmacy offers an abundant selection of medical equipment products both for purchase and lease. We do not bill insurance for our DME products.
Our friendly and knowledgeable team in the Home Medical Equipment Department will assess your needs and help to select the perfect product or aids for you. Give us a call or come browse to see the selection we offer. Below are a few categories of items we stock.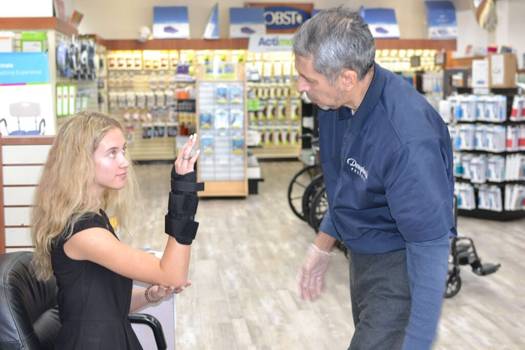 Personalized Service
Stop by and meet John, our in-house medical equipment expert. He can answer any questions you might have on our products and provide custom fitting services.
"I really enjoy listening to our customers, finding out what they need, and then making sure they're comfortable with the product and understand how to use it. I just like helping people."
– John, Home Medical Equipment Expert
Bathroom Safety Aids
We provide a full line of bathroom safety products such as non-slip bathmats, commodes, safety grab bars, bath benches, and other products to meet your needs.
BP Monitors
We carry a variety of blood pressure monitors such as the conventional aneroid style along with fully automatic models for either the upper arm or wrist.
Compression Hose
We stock a full line of support wear by JOBST.
Crutches
We offer both conventional underarm crutches and forearm crutches for heights ranging from 4' up to 6'6". You may also rent underarm crutches for short term needs.
Knee Walkers
We carry knee walkers for individuals unable to use standard crutches.
Lift Chairs
We offer a full line of motorized lift/reclining chairs allowing individuals to easily move from a seated to standing position. These chairs are available in a variety of styles and fabrics.
Motorized Scooters
We offer motorized scooters from Pride Mobility in a variety of styles; we also carry a wide selection of accessories to customize your scooter. Let us help you select the perfect scooter for your mobility needs.
Nutritional
Some of our most sought medical product(s) are nutritional powders such as Skandishake, Ensure or Glucerna to bring about better absorption or supplement to your daily caloric intake. Cheers to good health and nutrition.
Orthopedics
We understand the need to support the movement of our neck, arms, legs and ankles when it involves our bones, muscles, tendons-ligaments. Carrying various products to assist in your healing process especially after operation or injury. Assortment of shoulder slings, post-op boot, braces, and belts. Inquire about sizing for the perfect fit.
Ostomy Supplies
We provide one of the largest selections of ostomy appliances and accessories in the area; our skilled staff will gladly answer your questions or help with issues you may be experiencing.
Respiratory
We carry a full line of nebulizer compressors and masks to meet your breathing needs. We have conventional plug-in models as well as portable battery-operated units for those on the go. For short term needs, you may also rent a nebulizer.
Stethoscopes
We carry a full line of stethoscopes for general and specialized use, including the Littmann cardiology model for healthcare professionals.
Walkers & Canes
We offer a full line of walkers and canes: ranging from basic styles to intricate folding walkers up to specialty 4-wheel walkers having a seat and brakes. We also carry an assortment of walker accessories such as bags, baskets, trays, etc. For temporary needs, you may rent a standard walker.
Wheelchairs
We offer standard wheelchairs for those who want to wheel themselves or light weight transport chairs for those who cannot self-propel themselves. You may rent either model for short term needs. We also carry a wide variety of wheelchair cushions to aid with both comfort and pressure relief.
Wound Care
We offer the largest selection of wound care dressings in the area, including hard to find specialty dressings for chronic or severe wounds. Our knowledgeable staff will help you select the appropriate product for your needs.