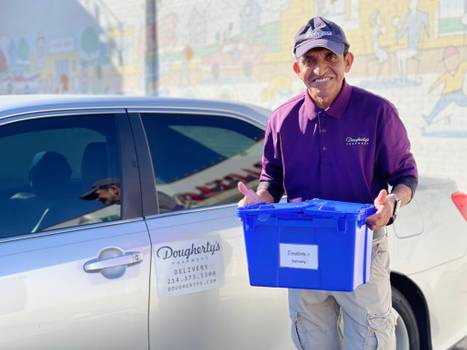 Busy and can't make it to the pharmacy after your doctor's visit? Down with the bug and can't make it to see us? Dougherty's offers convenient prescription delivery options right to your door.
Certain zip codes will have a surcharge due to radius or rush courier delivery request. Mailing requests will have to be prepaid for standard or overnight delivery.
North-Northwest
FREE: 6.07 miles
$10: 10.04 miles
$20: 15.04 miles
South-Southwest
FREE: 9.05 miles
$10: 12.0 miles
$20: 10.03 miles
West-Northwest
FREE: 8.02 miles
$10: 9.0 miles
$20: 9.0 miles
East
FREE: 7.01 mailes
$10: 10.02 miles
$20: 12.02 miles
Dougherty's services a total of:
Dougherty's offers state-of-Texas-only shipping services outside of our local zip code range.
USPS Priority Mail
Under 10lbs, Non-Refrigerated, Non-Freezer, Non-Controls: $10
Over 10lbs, Non-Refrigerated, Non-Freezer, Non-Controls: $15
UPS
Expedited Shipment, Refrigerated, Freezer, Control Signature Required
Subject to UPS Online Shipping Charges